So, here goes review from real people.
It's a nice sweet movie and hilarious from unthinkable moments. Go see it, while it is still there!(I've still not seen Pyar k side effects. So, the names of the characters and their professions, is where the similarity ends!)
Loved Ram Kapoor's French, Spanish, Portuguese and what not! Ram and Gautami, the real life couple were so adorable together.
(Update from Sep 2016: Saw them in reali life in Starbucks the other day. They are so cute together and so much in love!)
I went for it, pretty late — not a first day first show. I so wanted to see the movie for Farhan Akhtar after Bhaag Milkha Bhaag and Vidya Balan after Kahaani.
Two of the most amazing actors we have. Amazing performance but given the capability of the two, maybe I had expected a little more. But, there was not much to do. The story was interesting, hilarious. As per the script, they did very well. Arrey the bai, (Oh, sorry, aunttyyy, Ila Arun was amazing.
But still worth it. Saw it in CR2 INOX. Those creeps would say seats are sold out and sell you expensive ones when you see seats vacant inside!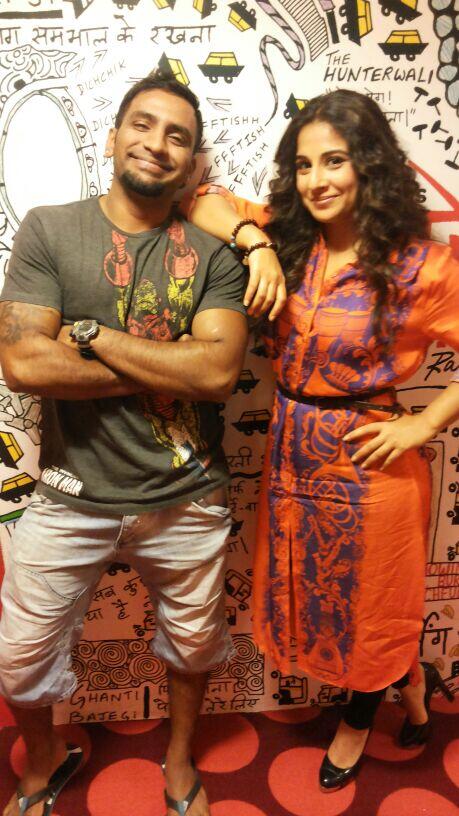 Totally breathtaking was the first Desi Romance disc song that opens the movie. Loved the 'Oh so cheap' plain lyrics with raunchy village flavour packaged with modern beats and made it so 'cool'.
The licking ears behind uncle and aunty in the elevator reminded me of Fifty Shades of Grey. :P
(No, there's not even a kiss! To those who want just that)
It's a clean, sweet rom-COM.Yes, more comedy than romance and very realistic. There's more than a thing to learn on what not to do after getting married or save your life while you are still married.
Costume designing and all could have been much better. As my friends put it, the pre-kids Vidya should have looked much slimmer in western. And she does look stunning sometimes. See this.
Can someone please explain WHY SHE COULDN'T WEAR in the real movie stuff she wore in promotions?
Well, nevertheless, I'd put it this way. It was beyond lovable to see a stunning Farhan Akhtar so much in love with Vidya all through the movie. Such committed love that he did not have one affair during the time where he was so frustrated!
Yes, this is not the typical — Get bored — have an affair adultery based movie at all!
For those who've already seen, I'm still wondering about the Shekhar thing. What do you think?
<blockquote class="instagram-media" data-instgrm-captioned data-instgrm-version="7" style=" background:#FFF; border:0; border-radius:3px; box-shadow:0 0 1px 0 rgba(0,0,0,0.5),0 1px 10px 0 rgba(0,0,0,0.15); margin: 1px; max-width:658px; padding:0; width:99.375%; width:-webkit-calc(100% - 2px); width:calc(100% - 2px);"><div style="padding:8px;"> <div style=" background:#F8F8F8; line-height:0; margin-top:40px; padding:41.9444444444% 0; text-align:center; width:100%;"> <div style=" background:url(data:image/png;base64,iVBORw0KGgoAAAANSUhEUgAAACwAAAAsCAMAAAApWqozAAAABGdBTUEAALGPC/xhBQAAAAFzUkdCAK7OHOkAAAAMUExURczMzPf399fX1+bm5mzY9AMAAADiSURBVDjLvZXbEsMgCES5/P8/t9FuRVCRmU73JWlzosgSIIZURCjo/ad+EQJJB4Hv8BFt+IDpQoCx1wjOSBFhh2XssxEIYn3ulI/6MNReE07UIWJEv8UEOWDS88LY97kqyTliJKKtuYBbruAyVh5wOHiXmpi5we58Ek028czwyuQdLKPG1Bkb4NnM+VeAnfHqn1k4+GPT6uGQcvu2h2OVuIf/gWUFyy8OWEpdyZSa3aVCqpVoVvzZZ2VTnn2wU8qzVjDDetO90GSy9mVLqtgYSy231MxrY6I2gGqjrTY0L8fxCxfCBbhWrsYYAAAAAElFTkSuQmCC); display:block; height:44px; margin:0 auto -44px; position:relative; top:-22px; width:44px;"></div></div> <p style=" margin:8px 0 0 0; padding:0 4px;"> <a href="https://www.instagram.com/p/BJehbfdhOXj/" style=" color:#000; font-family:Arial,sans-serif; font-size:14px; font-style:normal; font-weight:normal; line-height:17px; text-decoration:none; word-wrap:break-word;" target="_blank">#Followme #graphicdesign Hope you #love my #designs Please do keep visiting! Lotsa love, #doveranalyst</a></p> <p style=" color:#c9c8cd; font-family:Arial,sans-serif; font-size:14px; line-height:17px; margin-bottom:0; margin-top:8px; overflow:hidden; padding:8px 0 7px; text-align:center; text-overflow:ellipsis; white-space:nowrap;">A photo posted by Doveranalyst (@rjtanu) on <time style=" font-family:Arial,sans-serif; font-size:14px; line-height:17px;" datetime="2016-08-24T03:48:07+00:00">Aug 23, 2016 at 8:48pm PDT</time></p></div></blockquote>
<script async defer src="//platform.instagram.com/en_US/embeds.js"></script>